Cardinal William Goh of Singapore, one of the 20 new cardinals formally created by Pope Francis on August 27, vowed to promote "religious harmony" in Asia.
"Inter-religious dialogue means interacting with people beyond religious borders to collaborate and promote peace in society, in Asia, and in the world," the prelate said in a report in the Italian news agency Fides.
Cardinal Goh said inter-religious dialogue "is part of the evangelizing mission of the Church in a complex reality like Asia."
---
---
To concretize the plan, the cardinal said the Archdiocese of Singapore will create a special research institute to study methodologies on how to promote friendship with other religious leaders.
"The work of inter-religious dialogue is carried out thanks to a patient weaving of human and spiritual relationships," said the Asian prelate.
He also stressed the importance of institutional support, citing the role played by the government of Singapore in promoting unity "by offering its support without being the body that promotes or guides the process."
"The government sees us as a partner because, in the end, we help build a better society," said the cardinal.
"We want to live a harmonious life in Singapore. We work with the government in recognizing common values and the government respects us. We respect the government because, after all, religion is not involved in politics," he said
Cardinal Goh said the Catholic Church in the country "does not look down on other religions and does not seek political power, but cooperates and collaborates with civil institutions."
He said religious leaders maintain excellent relationships because they "respect and support each other."
"We may not share the same convictions, but at least we share the same universal values of love, justice, peace and harmony," said the Catholic Church leader.
"We live these values with the spirit of Christ, which is the source," he said, adding that Singapore is a "religious nation" where 80 percent of its population profess a faith.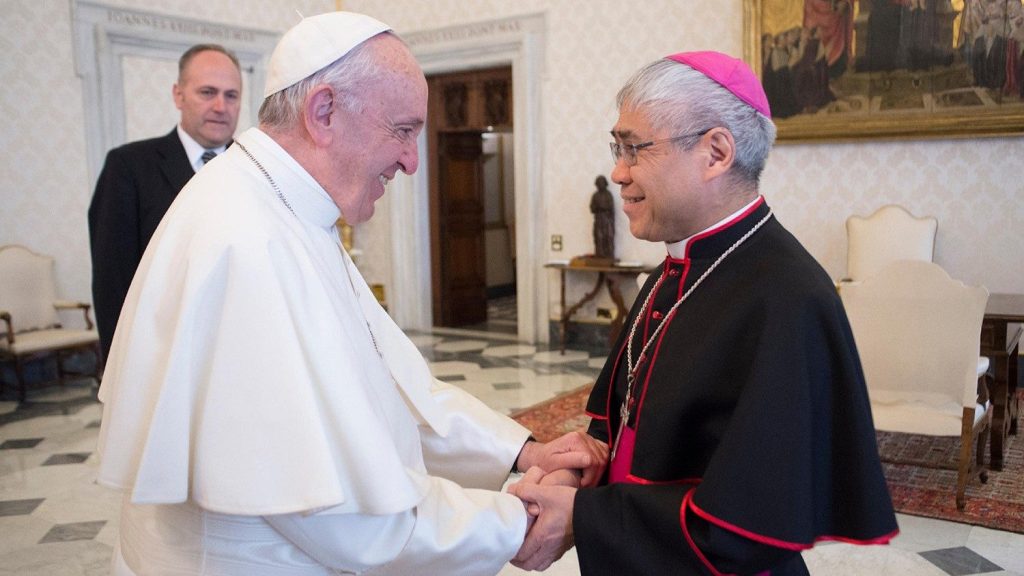 The cardinal said, however, that people "must not take religious harmony in our country for granted and we must ensure that religious leaders remain moderate and respectful of one another" and serve as an example for the faithful.
He warned that inter-religious dialogue is "for people who are passionate and mature in their faith."
"You cannot dialogue with others if you do not know your own faith," he said, adding that Catholics should be "authentic witnesses of Christ with people of other faiths."
In an earlier interview with Vatican News, Cardinal Goh said "diversity is the greatest challenge" for the Catholic Church in Asia.
"The countries are so diverse in terms of political stability, culture, religion, and standards of living. We have many and very diverse languages when we come together," he said.
The cardinal said that because many of the governments in Asia have state religions, "a lot of sensitivity would be involved for dialogue in terms of getting the people to be united."
He said that in Asia, "the challenges of spreading the good news will be much more difficult because there are so many languages and you need to translate, for one country, into four or five languages."
He said the other challenge in Asia is "how to inculturate" faith. "We must also be prudent with inculturation," he added.
Christians make up 20 percent of the 3.5 million population of Singapore.
Cardinal Goh was born in 1957 and is the fourth archbishop of the Catholic Archdiocese of Singapore.
He attended Montfort Secondary, where he received his high school diploma and entered the seminary in 1979 and began his studies in Philosophy at the Major Seminary at Penang, and Theology at the Major Seminary of Singapore.
On May 1, 1985, he was ordained priest in the Archdiocese of Singapore and was later named Assistant Parish Priest in the Church of the Holy Cross from 1985-1989.
He went on to complete his Licentiate in Dogmatic Theology in the Pontifical Gregorian University, Rome in 1992.
Upon his return, he was appointed formator and lecturer at the St Francis Xavier Major Seminary from 1992-2005.
In 2005, he was made rector and spiritual director of the Catholic Spirituality Centre until he took office as archbishop.