On a rock in Scarborough Shoal is a Philippine territorial marker. The concrete cylinder is 20 cm in diameter and a meter long, but only 15 cm protrudes. On the brass cap is embossed "USAMSFE." The US Army Map Service-Far East embedded it there before the 1946 birth of the Philippine Republic.
That marker proves that the Shoal, also called Panatag and Bajo de Masinloc, 123 miles off Zambales, is Philippine boundary. By a series of Spanish and American official acts and documentation, jurisdiction transferred to Manila.
Filipino geodetic engineer-astronomer Dante Yglopaz, 84, knows the marker well. He is the only surviving member of the Scarborough survey 61 years ago by USAMSFE and the Bureau of Coast and Geodetic Survey. That weeklong research pinpointed the exact longitude and latitude of the Philippine border.
---
---
Yglopaz likens the marker to a "mohon" (stone boundary) of a lot. Marked "BL" (Bureau of Lands) it denotes state authority.
Yglopaz was 23 when he served as the survey's assistant astronomer in March 1961. The venerable engineer Felipe F. Cruz, whose firm the USAMSFE contracted, acted as documenter. Felipe Caddauan of Ilocos was main astronomer; Victor Henry Baledia of Negros Oriental, radioman.
They sailed two days and one night from the BCGS headquarters in North Harbor, Binondo, Manila. Captain Frisbitero skippered the ten-man crew of the steel vessel "Pathfinder." Anchoring a distance from the treacherous reefs, they rowed boats to unload equipment onto an old steel-framed shed beside the marker, as USAMSFE instructed.
​Wall-less, only a GI sheet roof shielded them from sun and wood planks from seawater, with latrine at the far end. Gear consisted of a book charting the position of 55,000 stars, electric chronograph, chronometer, radio, mechanical adding machine, heavy-duty truck batteries, kerosene stove and Petromax lamps. No calculators or GPS then. At night they timed the moon's occultation of 30 to 50 stars; at day they computed and logged their findings. They worked, ate and slept on the small space as brine splashed on them.
Their study was submitted to USASMFE headquarters in Tokyo, later moved to Honolulu. Sadly, Yglopaz's personal journals and photos of the expedition were ruined by storm Ondoy's mud and floods in his Marikina home, 2009.
Yglopaz joined other USASMFE surveys, 1959-1965, with Caddauan, Baledia, and alternate astronomer Ernesto Calpo of the Weather Bureau. They survived poisonous snakes and blood leeches in Sulu, Palawan and Babuyan Island mountaintops. Then, onto South Vietnam to plot the coordinates of the southernmost tip to the demarcation line with the North. Onto Kwajalein, Saipan, Guam, Sydney, Auckland, Christchurch and Dunedin. Also the US mainland: Sacramento, Reno, San Francisco, where they and Cruz were locked down at The Presidio base during the 1962 Cuban Missile Crisis.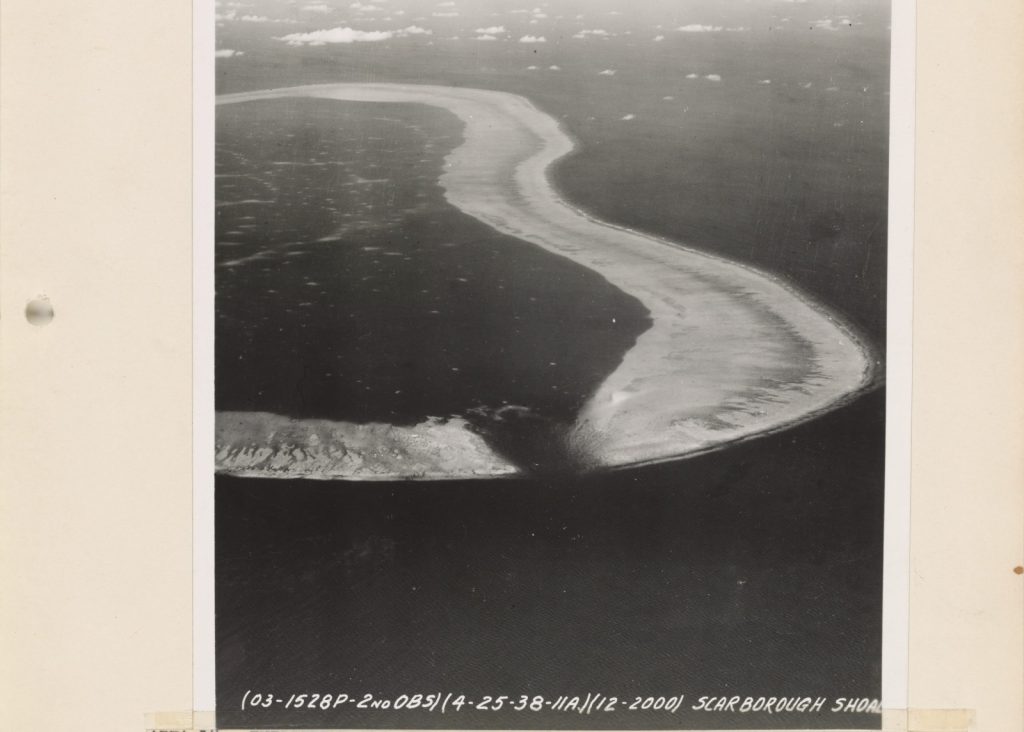 ​Yglopaz wonders if China, which grabbed Scarborough in 2012, has destroyed the USASMFE marker. "In 1961 we didn't see any navigation lights" in the 15,000-hectare lagoon, he recounted last August 27 and a follow-up interview on August 29.
"No fishermen, and US or Philippine patrols either. And certainly no Chinese ships." About China's nine-dash line claim encompassing the Shoal, he said: "Ngayon lang 'yan. Wala 'yan noon. Narinig ko lang 'yan nu'ng presidente na si Noynoy Aquino."
"Kung ipaglalaban sa court, tapos may witness na pupuntahan yung shoal, at kung hindi pa nila [China] giniba 'yong corals du'n, sigurado nandoon pa 'yong concrete monument," he stressed. "That would physically locate the boundary of the Philippines. Ito na ang living proof na sa atin ang lugar na 'yon."
Ex-president Rody Duterte's defeatism saddened Yglopaz: "He shouldn't have publicized that we can't fight China because it is strong and we are weak. Even if it takes 110 million Filipinos, we should not give up. Since the time of Lapulapu, we never surrendered. In Bataan in 1942 when the Americans planned to lay down arms, Filipinos wanted to fight on." Spoken like a true but unsung hero, very much a part of Philippine history.
Biographical notes on Yglopaz: Born in Iligan July 28, 1938. Graduated from Manuel L. Quezon University, October 1959. Joined FF Cruz Co., November 1959. Worked for Weather Bureau, 1965-1975; headed the observatory in UP-Diliman, where he trained students and airline pilots in navigation. Studied Computer Science, Australia, 1975-1979. Among the first overseas Filipino workers in Saudi Arabia, 1979-1989. Joined Kessler Consultancy-Manila, then formed his own geodetic surveying firm.
Twice widowed: Nora Miciano of Pinamalayan, Mindoro, UP Diliman and Red Cross social worker; Nympha Montejo of Cagayan de Oro, geodetic engineer. Offspring: Hanna Maria, Spanish professor at UP; Ma. Helena, hotel-restaurant management, UP; Ma. Teresa, English professor, UP; David, physicist, UP, headed geothermal projects, Energy Development Corp.
Jarius Bondoc is an award-winning Filipino journalist and author based in Manila. He writes opinion pieces for The Philippine Star and Pilipino Star Ngayon and hosts a radio program on DWIZ 882 every Saturday. Catch Sapol radio show, Saturdays, 8 to 10 a.m., DWIZ (882-AM).
The views expressed in this article are the opinions of the author and do not necessarily reflect the editorial stance of LiCAS.news.