Catholic communicators from around the world called on media professionals on Thursday, August 18, to advocate for justice, work for human rights, and help in conflict resolutions.
"Media professionals … are enjoined not just to report events but to engage actively in supporting the victims of war and working towards conflict resolutions," read the final statement of the SIGNIS World Congress 2022 in Seoul.
They called for "action to protect the human rights of civilians caught up in war and conflict zones."
---
---
SIGNIS is the World Catholic Association for Communication, an organization whose mission is to "help transform cultures in the light of the Gospel by promoting human dignity, justice and reconciliation."
"We need to cultivate the journalistic values of advocating for justice, holding authorities to account, and establishing common ground through well-researched context and nuanced explanation, so as to provide a guiding light for our readers, viewers and listeners," read the organization's statement.
This year's gathering of Catholic world communicators from at least 34 countries took place at Sogang University in Seoul and carried the theme "Peace in the Digital World."
In their final statement, Congress participants noted that the "digital divide" has "increased the gap between the rich and the poor," resulting in inequality in accessing "the fruits of the digital revolution."
"We realize that as people become hyper-connected, they are also challenged with socioeconomic, cultural, political, religious, spiritual, and ecological disconnections, leading to isolation, confusion and hopelessness," read the SIGNIS statement.
It said that online games, pornography addiction, overexposure to violence, and contents of divisive nature in media "lead to destructive behaviors."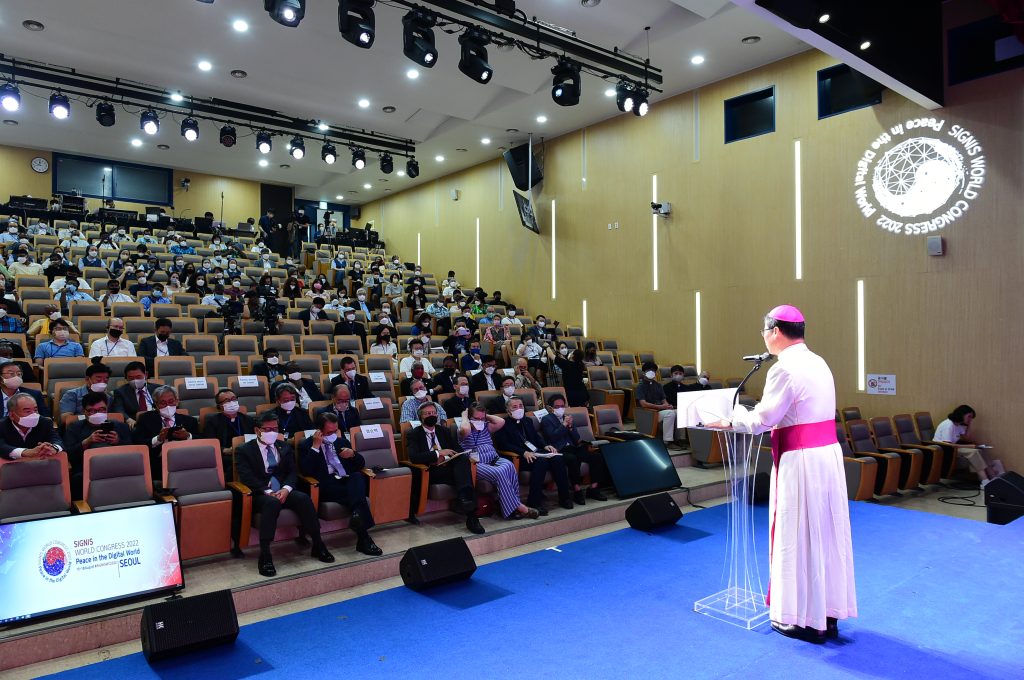 "We recognize the devastating effects of fake news on contemporary society such as communal clashes among people," it said, adding that "vulnerable groups in the society are often the major victims of fake news."
"We need to move from individual engagement to community building," read the statement.
"We need to weave the web with truth and beauty of faith and hope," it said. "Technology has to be imbued with ethics and thoughtfulness."
In a message addressed to the Seoul Congress, Pope Francis called participants to counter toxicity in social media, and to engage in dialogue and education to help deal with "lies and misinformation."
The pope said "the use of digital media, especially social media, has raised a number of serious ethical issues that call for wise and discerning judgment on the part of communicators."
"Sometimes and in some places, media sites have become places of toxicity, hate speech and fake news," said Pope Francis.
He encouraged Catholic communicators to persevere in efforts to counter these, "paying particular attention to the need to assist people, especially young people, to develop a sound critical sense, learning to distinguish truth from falsehood, right from wrong, good from evil, and to appreciate the importance of working for justice, social concord, and respect for our common home."
Participants to the SIGNIS gathering affirmed what they described as "genuine interest in marginalized people" and commit themselves "to communicate true and meaningful information to promote their struggles."