Thousands of people flocked to the Jameo Mindanao Al-Islamie Islamic Center in the city of Marawi as it opened for the first time for the celebration of Eid'l Fitr to mark the end of the holy month of Ramadan on Monday, May 2.
The so-called Grand Mosque is located in what has been dubbed as the "most affected area" during the five-month shooting war that left Marawi in ruins in 2017.
Residents who have returned to the city were allowed to perform Friday prayers in the mosque during the holy month of Ramadan, but the place was officially opened for prayers to mark Eid'l Fitr.
---
---
"After this, we are praying that we would continue performing our Friday prayers here even after the Ramadan," said Hadji Ibrahim Pangarungan, secretary to the administrator of the Islamic Center.
The mosque has a floor area of 9,500 square meters that can accommodate about 9,000 people.
During Monday's celebration, people were required to wear face masks and to follow strict health protocols. The faithful were, however, allowed to remove the masks during the recitation of prayers.
Worshippers were also asked to bring their own prayer mats and plastic bags to keep their shoes and footwear in.
Sobair Abantas said his family was so happy that after almost five years they were able to perform their Eid prayer at the grand mosque.
He said he prayed that he would finally receive compensation for the displacement and the destruction of his home during the war.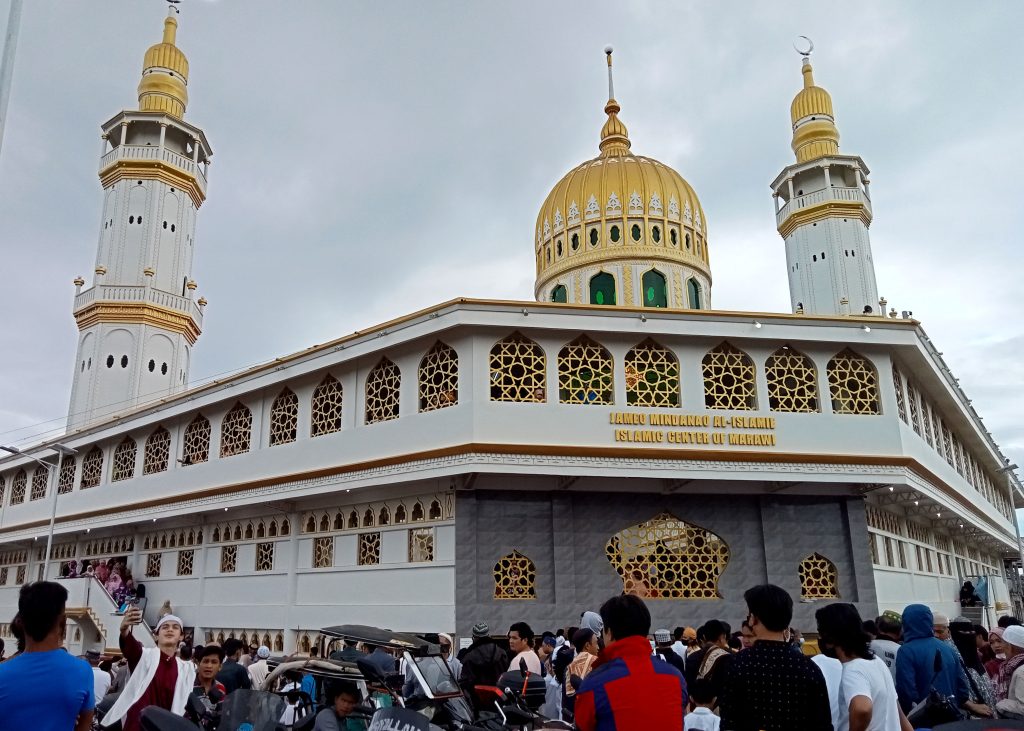 "Ang aming pagbalik ngayon ay hindi para itayo ang bahay namin kundi para magsimba, malaking bagay pa rin ito sa amin," said Abantas.
Pangarungan, meanwhile, prayed for "peaceful elections" and for voters to vote freely on May 9. He said he also prayed that the next president will genuinely love and help Muslims.
"Hindi yung the president will dance with the citizens and the citizens will also dance with the president. What we are dancing is in line with our religion, Islam," said Pangarungan.
The government opened the Grand Mosque last year, four years after the start of the rehabilitation of the city that was razed to the ground in 2017.
The Marawi siege broke out on May 23, 2017, when military and police forces launched an operation to capture Isnilon Hapilon, the head of the Islamic State forces in the Philippines.
Hapilon and Omar Maute, founder of the Dawlah Islamiyah group, were killed about a week before the war was declared over on October 23 of the same year.
About 168 soldiers, policemen, and civilians died during the 153-day siege that also displaced thousands. – with a report from the Philippine News Agency