The year 2021 turned out to be the most violent year for Christians in India with close to 500 incidents of attacks against communities recorded.
Hate crimes escalated in the last quarter of 2021 as Hindu right-wing groups damaged churches, razed statues, and even disrupted Christmas celebrations.
"It is a matter of national shame that even on Christmas Day as many as 16 incidents of violence took place in churches, congregations, institutions, and celebrations," said John Dayal, spokesman of All India Catholic Union.
---
---
---
The sight of a broken statue of Jesus in the compound of the Holy Redeemer Church in Ambala in the northern state of Haryana on Christmas Day shocked not just the community, but peace-loving people in the country.
In a spate of attacks, Christmas celebrations were disrupted, religious images were smashed and effigies of Santa Claus were burned.
Hindu right-wing groups, who alleged Christians were using festivities to force Hindus to convert, burned the effigies outside Catholic schools in Agra in Uttar Pradesh and Gurugram in Haryana.
The 486 cases of violence on the Christian community recorded last year has been the highest since the anti-Christian violence in the eastern state of Odisha in 2008.
In the 2008 violence in Kandhamal district of Odisha, 100 people were killed, thousands were injured, over 300 churches and 6,000 homes were destroyed, and 50,000 people were displaced.
People hid in nearby forests where a good number died of hunger and snakebites.
What has become more frightening is the indifference of law enforcement agencies, said Father Suresh Mathew, editor of the weekly Indian Currents.
He said that when right-wing mobs take the law into their hands and hound Christians, police turn a blind eye.
Instead of arresting the culprits, they ask Christians to refrain from assembling for prayer services, he said.
A C Michael, national coordinator of the United Christian Forum, said hate speeches by some groups and propaganda seem to be encouraged by "anti-social elements" to perpetrate violence against Christians.
The Forum is the umbrella body of Christian organizations that monitor Christian persecutions across India.
Michael said incidents of attacks against Christians are "well-orchestrated and pre-planned acts" by certain groups to divide the country on the basis of religion.
In the past two months, there were over 100 incidents of attacks, "as if to warn Christians from celebrating the birthday of the Lord Jesus Christ."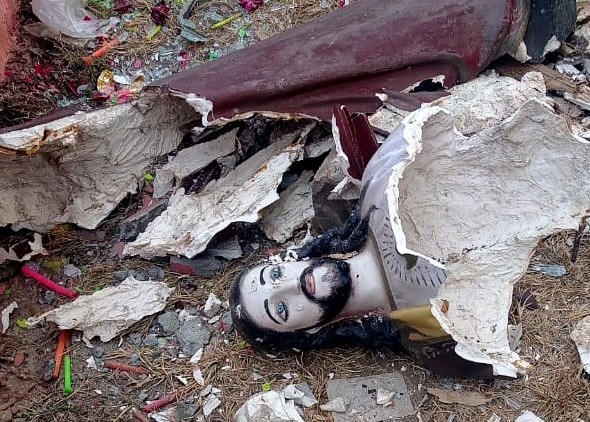 October was the most violent month with 77 incidents, according to a Forum report.
In 2021, Uttar Pradesh saw 102 instances of attacks, followed by Chhattisgarh with 90. Four states — Uttar Pradesh, Chhattisgarh, Jharkhand and Madhya Pradesh — recorded a total of 274 incidents of violence against Christians.
Karnataka was the only southern state to clock a high of 59 incidents.
According to the UCF report, such incidents have spiked sharply since 2014 when the Bharatiya Janata Party took over the reins of the federal government.
That year 127 incidents were recorded, in 2015 the number rose to 142, and increased further to 226 in 2016, 248 in 2017, 292 in 2018, 328 in 2019.
The year 2020 saw a slight decrease — 279 — due to the lockdowns brought about by the pandemic.
In almost all incidents, vigilante mobs comprising religious extremists barge into prayer gatherings or round up individuals, accusing them of proselytization.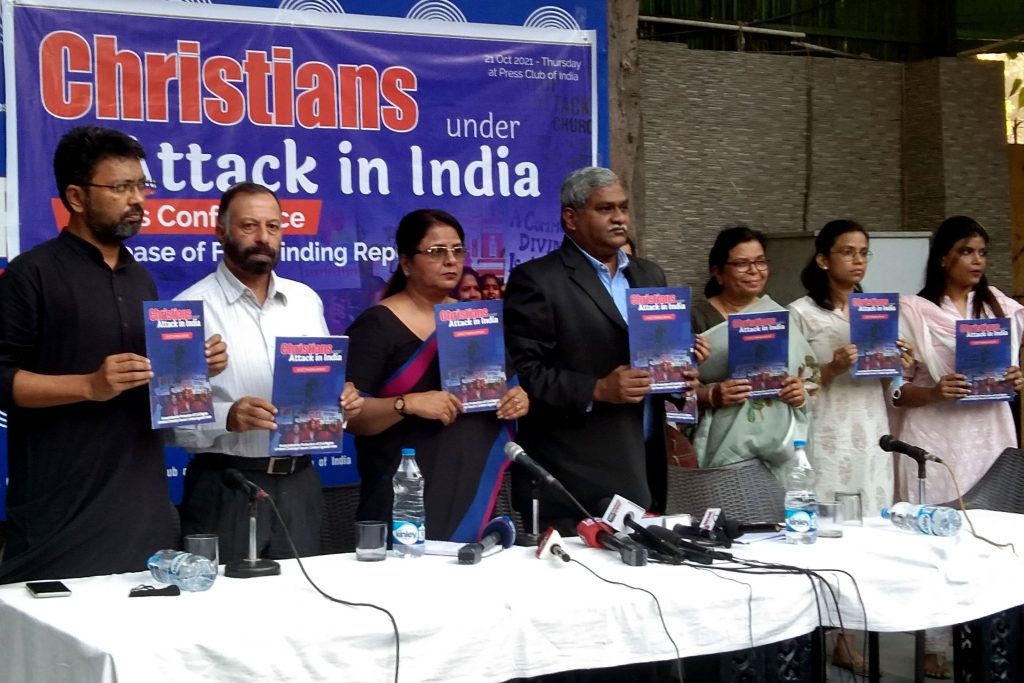 Not only Christians, who comprise a little over two percent of the population, but also Muslims are on the receiving end of religious attacks of right-wing Hindu groups.
"We are alarmed at the open call of genocide against Muslims and the elimination of the Christian faith made at mass gatherings in north and central India," said Dayal.
He was referring to a religious gathering of Hindus last month in Uttar Pradesh state where some leaders called for violence against Muslims.
"In this environment of hate, governments have added to our pain," said Dayal, noting that the Karnataka assembly has passed an anti-conversion law "that criminalizes interfaith marriages and deprives, especially the Dalit and Adivasi people, of their freedom of faith."
The non-renewal of the certificate to receive overseas funds of the Missionaries of Charity was the "last act of assault on the community" by the federal government, he said.
"It is ironic that (the non-renewal) is done soon after our Prime Minister Narendra Modi called on Pope Francis in Rome and invited him to visit India, an act we welcomed wholeheartedly," said Dayal.