While we could not go to the graves of our loved ones and greet them, offer them flowers or bring them food during the pandemic, we can visit them in our memories and still be grateful to them for their love.
The message of this article remains remains the same (I first wrote the original text in November 2015). We always know deep within us that our beloved dead are "umalagad," an old Visayan word for "servant" — our loved ones have always served both in life and in death — as the ancient inhabitants of our islands called them.
However, our new witnesses in recent years give it a different color. They did not just die. They were killed. These victims of the "War on Drugs" are the new martyrs of our times. [President Rodrigo Duterte's] government called them "evil," "pests," "inhuman."
For their loved ones, for their wives, mothers and children, the victims were caring fathers and loving sons. They are "umalagad": they died serving, loving, caring. At the end of this revised piece, I tell the stories of Raffy and Juan of Payatas, the new "umalagad" of our times.
---
---
---
All Saints' Day, All Souls' Day
The early Christians went to the tombs of their martyrs and celebrated their death anniversaries with prayers and almsgiving. Assigning one day of the year to celebrate their victories, the Feast of All Saints can be traced to the time of Pope Gregory III (731–741 AD). It was already a popular feast during the time of Charlemagne (743-814 AD). But around 993, Saint Odilo of Cluny thought of instituting the day after as the commemoration for all the faithful departed, especially "those who were still in purgatory." From this part in France, All Souls' Day spread throughout the whole of Christendom.
But there is something peculiar with which we Filipinos celebrate All Saints' Day.
We go to the cemeteries and visit the dead. November 1 and November 2 is one celebration. Or, better still, for most of us, the main celebration is actually November 1. November 2 is for those who could not make it the day before. What might be inside the Filipino psyche that elides this long-held Christian distinction?
And there are other interesting features to this celebration. Instead of quiet prayer for dead souls — who in the Western classical tradition — could no longer eat or drink, we offer their favorite food on our altars saying they are going to join us in the feast.
In the provinces, it is this time of the year — "undas or kalag-kalag" — that local delicacies are on offer at the family tables. A special plate of the dead's favorite food goes to the family altar. But one also remembers that at funeral, the dead's favorite beer or cigar has been placed inside their coffins as "baon" for the long journey.
For many, November 1 is a real family picnic at the cemetery. (Of course, this does not happen during the pandemic; but the family feasts on altars and tables remain.) Some cultures think of this as bizarre. Flowers and candles, yes; but food? At their graves, rosary prayers easily mix with laughter of long lost friends who dropped by to bring some flowers or say some prayers for their beloved. Religious hymns blend with karaoke songs in a nearby grave. A blessing of holy water is followed by a big banquet on top of tombs with food and drinks for all — for the dead included.
In the hope of finding some little meaning to this colorful November event, I thought of reading something from our pre-Christian past. How did our forebears receive the Western Christian paradigm of an afterlife — of souls and spirits, rewards and punishments, heaven and hell?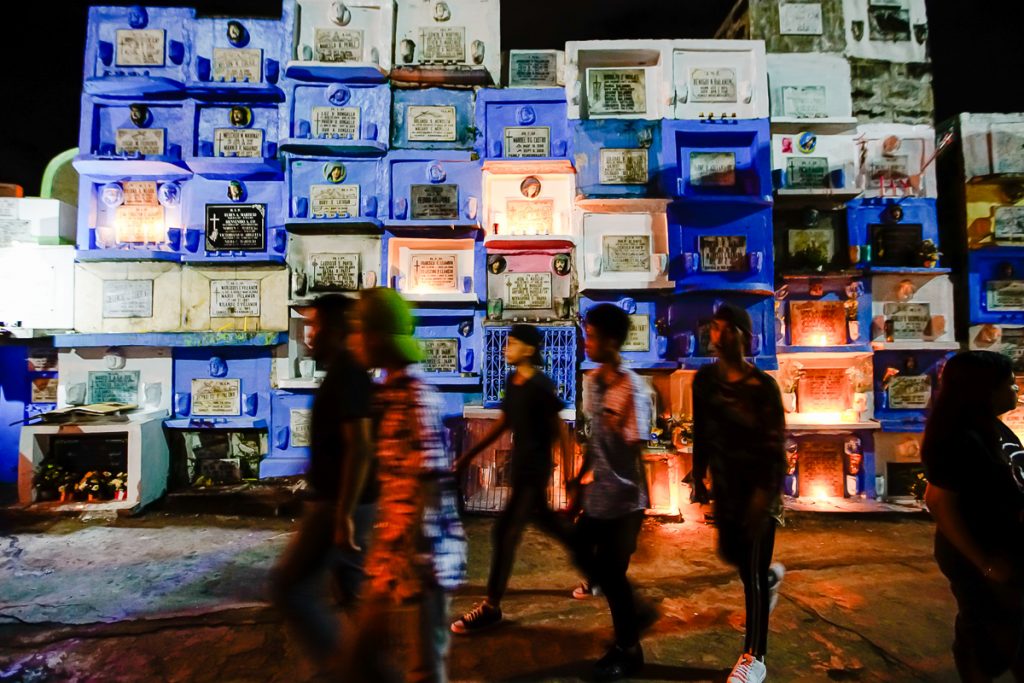 Rethinking heaven: Pre-colonial experience
Recent historical studies on pre-colonial Philippines show that the original inhabitants whom the Spaniards met in these islands did not believe in "heaven" or "hell" in the way that the latter understood them.
Vicente Rafael argues that the Tagalog word "caloualhatian" existed but did not mean "paradise" at all. Stripping it of its Christian imposition, it merely refers to a "state of profound rest, as when one is in deep sleep, or dead." There is also no equivalent to the Christian "hell" as pre-colonial mythologies do not have notions of reward and punishment after death (Contracting Colonialism, 170).
In his research on the Visayans, William Henry Scott, another famous historian, comments:
"Indeed, the Visayans long resisted the Christian dogma of a heavenly paradise. Juan de la Isla wrote, 'They believe that their souls go down below and say that this is better because they are cooler there than up above where it is very hot.'
"A century later, a wise old Visayan told Father Alcina: Father, we do not doubt that there will be heaven for the Castillians, but not for the Visayans, because God created us in this part of the world so very different from you; and since, as we see, the Spaniards will not even let us sit down in their houses here, not show us any respect, how much less there where, as you say, all is grandeur, majesty and glory without end.'" (Looking for the Prehispanic Filipino, 135-136).
In short, if "heaven" would be like what we experience in this oppressive colonial life, you go and dwell in your heavens; we might as well go somewhere else where a different world exists.
Among the Visayans, a soul is called "kalag." It refers to the person's vital impetus. A spirited forceful person is also called "kalagan nga tawo" (a soulful person).
Unlike its Platonic counterpart, "kalag" for Visayans is not averse to the bodily and the physical. The Visayan soul eats as when they say: "Himulaw, himulaw, manga kalag; ayaw kami pagsuli — Eat, souls, eat: let it not be bad for us."
Portrayed in two small figures on top of the lid of a burial jar excavated from the Manunggul Cave in Palawan (ca. 800 BCE), the Visayan soul journeys in death to the land of the dead (Saad or Sulad) by boat.
"The boatman sits in the stern with the steering oar in his hands, his ghostly passenger in front with hands folded across his chest, staring wide-eyed straight ahead. On the other shore, the "kalag" would be met by his relatives who have predeceased him…"
"Umalagad" — They care for us
What happens in the afterlife? William Henry Scott is worth quoting in full: "In the afterlife, married couples were reunited to continue accustomed activities like farming, fishing, raiding, spinning and weaving but did not bear children. In this way, they spent their days for nine lifetimes, bring reborn each time smaller than the last, until in their final reincarnation, they were buried in a coffin the size of a grain of rice. The souls of those who drowned, however, remained in the sea; indeed, drowning was such a common cause of death that Samareños used the term figuratively for any death. Those who died in war, who were murdered or killed by crocodiles, traveled up the rainbow to the sky; in Panay the epic of Labaw Donggon, the rainbow itself is formed by their blood falling to earth" (135).
Thus, in the consciousness of our pre-colonial ancestors, the afterlife is both the same and different. The same, because people go on with their lives of farming and weaving, of fishing and spinning.
Unlike the common belief that we no longer recognize one another since we are disembodied "souls," married couples are in fact reunited and love one another as they always did. Different, because they no longer bear children. Those who die in war and murdered, like our martyrs, become "rainbows" and their blood colors our skies and fall on the earth.
For those who are left behind, these ancestor spirits were called "umalagad" (from the Visayan word alagad, i.e., servant). They stay with us, around us, close to us. They never leave us. They would act as assistants, personal guardians and companions. It is these "kalag" and "umalagad" who are closest to people's hearts as they were omnipresent in their everyday lives — they were invoked while leaving the house; in planting and harvesting rituals; they acted as protectors at sea and help during ship raids, etc.
Both in life and in death, the "umalagad ancestors" — our loved ones — serve us the living who are their beloved.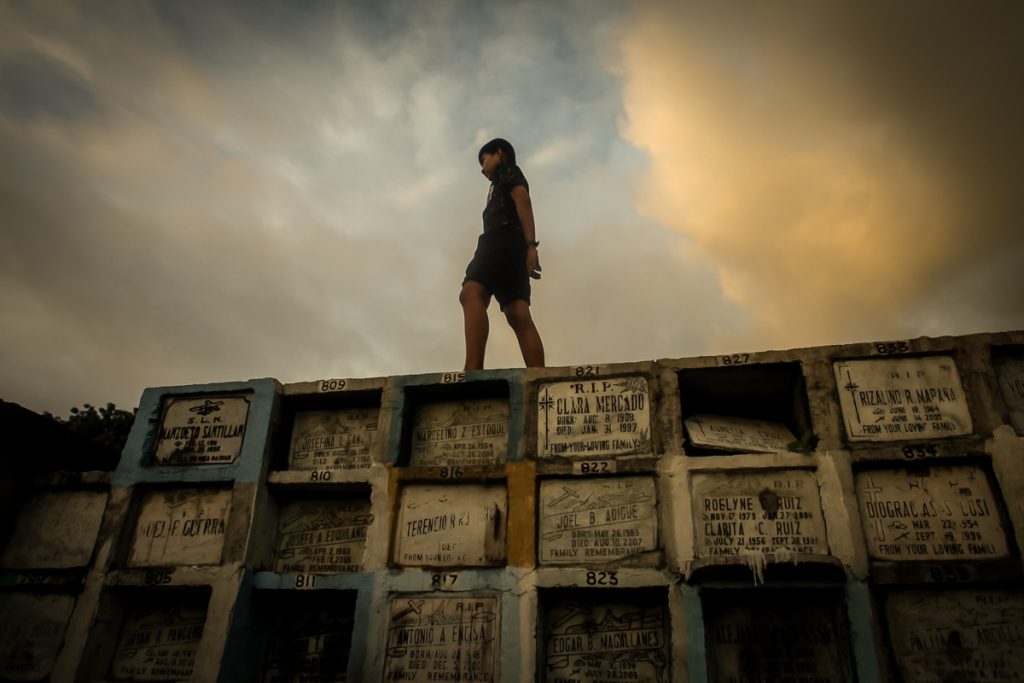 Imagining the Kingdom
What light has this pre-colonial narrative shed to our little inquiry?
We cannot bring back the whole precolonial consciousness in our times after centuries of syncretistic contacts with faiths and cultures other than our own. But we have not also totally erased it from our psyches. These world views will forever be a part of us. What do we learn from them about the meaning of "afterlife" today?
First, our forebears better understood Jesus' message of God's kingdom. It is not so much about "souls going to heaven" as colonial Christianity taught as about making this world of ours a place of love, equality and justice. As we pray in the Our Father: [let] thy kingdom come, [let] thy will be done on earth as in heaven.
They knew deeply that the heavenly grandeur and majesty does not exist if the colonizers could "not even let [them] sit down in their houses here, not show [them] any respect."
Unless unjust and violent situations are transformed, what the Spaniards call "heaven" is a sham. Let them live there if they want; but not us — our ancestors thought. Without having read it, our forebears better understood what Isaiah proclaimed long ago about God's kingdom: "The wolf shall live with the lamb, the leopard shall lie down with the kid, the calf and the lion and the fatling together, and a little child shall lead them" (Is. 11: 6).
Second, they knew that the afterlife is not quite different from what we experience today. The Jews called soul — "nepesh" — which means the whole living human being with all his/her emotions and desires. That could have been an easier idea to identify with than with the Christianized Platonic "nous" or "psychê."
Afterlife, thus, is not about disembodied "souls" hanging around or scaring us to death on Halloween. No, it is about real persons close to us — of married couples being reunited or relatives meeting us after the sea voyage. It is about farming, fishing and spinning. It is a wedding feast, a banquet for all, a joyful celebration.
It is the whole of real life, not some surreal existence in the clouds. It is about our presence with creatures under the sea or on top of rainbows up the sky and our blood giving color and beauty to the earth. It is about the "whole creation groaning" towards what the Book Revelation calls the "new heavens and the new earth" (Rev. 20:1; Is. 65:17). To console a boy so sad about his dog who recently died, Pope Francis said: "One day, we will see our animals again in the eternity of Christ. Paradise is open to all of God's creatures."
Third, the blessed are those who served — in life and in death. They are the "umalagad." They are those who would continually transform themselves to their ninth lives into something "smaller than the last" to such littleness as to be buried in "coffins as small as the grain of rice" in order to feed and give life to the rest, as William Henry Scott narrates.
Even without hearing it from Jesus' mouth, our forebears better understood the message of the grain of wheat that needs to die in order to bear much fruit (John 12:24). In life and in death, our "umalagad" accompanies us, protects us, helps us, strengthens us. "Heaven" — indeed, the whole cosmos — is not so much a reward of the righteous; it is whole network of "alagad," of loving and self-effacing service without end.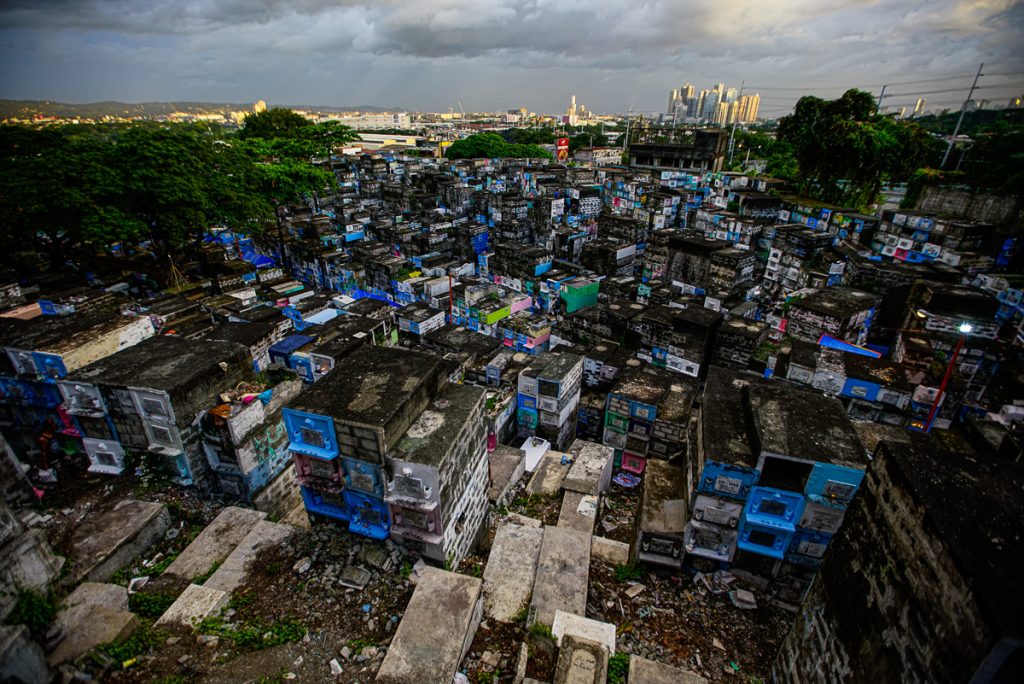 The new 'umalagad'
I still can remember Lydia whose son, Raffy, was killed by the police in a drug operation. He had been supporting her for months as she could not work due to a fracture in her knees. But Raffy was shot with his friends one morning after working in the garbage dump. It was painful during the wake. It was more painful after he was buried. Lydia did not know where to go and what to do. But after the funeral expenses have been paid, she found out she had around 3,000 pesos left from the donations. She used this as her little capital to start a sari-sari store. And for months after his death, she merely survived on that. Raffy was her life when he was alive. Raffy — through the donations in his wake — is still his life now that he is dead.
I also remember Juan. He had a pregnant wife and six children. His friends told him that his name was on the list. He fled and looked for work in Manila to escape from the police. One night when he was away, the police came and captured his wife (she later delivered her baby in prison; and she stayed there for 1 year and 8 months). Upon hearing this, Juan went home one night in order not to be detected. He brought with him some spaghetti because it was his daughter's birthday the next day. He cooked it in the morning and ate with his children. Even as the children had to rush for school, they had a happy improvised party. Spaghetti at breakfast is a real treat for children in Payatas. They barely finished eating when policemen barged into the house and shot him. He died feeding his children, serving them, caring for them. He is the new "umalagad."
These selfless beloved are the ones truly described in the gospel read on All Saints' Day. The "umalagad" are the poor in spirit, the meek, the merciful, the simple and pure of heart, the peacemakers, the persecuted for the sake of justice (Mt. 5: 1-12).
And we know some of them in person. They are not "souls." They are our families and friends. They were the persons who cared for us, who loved us until their death. For that, Jesus called them "blessed," happy, "makarios."
Father Daniel Franklin Pilario, C.M. is a theologian, professor, and pastor of an urban poor community in the outskirts of the Philippine capital.