Authorities in Slovakia are easing COVID rules to allow more Catholics to see Pope Francis during his Sept. 12-15 trip to the country.
Access to papal events will no longer be limited to the fully vaccinated, but will also be open to people with a recent negative test result or proof of recovery within the past 180 days, the website of the Bishops' Conference of Slovakia announced on Sept. 4.
Local bishops reluctantly agreed to restrict papal gatherings to the fully vaccinated amid concerns that the trip would contribute to a third wave of the virus.
But a Church spokesman said last month that the requirement was creating a headache for organizers of the four-city trip.
---
---
---
Father Martin Kramara, the spokesman for the Slovakian bishops' conference, said that the bishops had agreed to the condition because the alternative was limiting papal events to just 1,000 people.
According to local media, he noted last month that interest in the visit appeared lower than expected.
Reports suggested that events were at just 13% of their capacity, with 57,000 people having registered to see the pope as of Sept. 2, in a country of 5.5 million people, 62% of whom are Catholics.
Slovakia has one of the lowest rates of COVID-19 vaccination in Europe, with just 51.3% of the population having received at least one dose of the vaccine as of Sept. 6, according to the European Centre for Disease Prevention and Control.
A Slovak Academy of Sciences poll in July found that 36% of Slovakians said they did not want to receive the COVID vaccine, up from 30.9% in May.
The same month, hundreds of people gathered outside Slovakia's parliament in protest of possible new vaccine rules.
Catholics who are not fully vaccinated will be allowed to register for papal events from Sept. 6 via the official website if they meet certain conditions.
In Slovakia, regions are designated as either "green" or "orange," depending on COVID levels. Organizers of large events in orange zones must choose between three categories: "base mode," in which everyone can attend; "OTP mode," in which attendance is limited to those who are fully vaccinated, have tested negatively, or have overcome COVID; or only for the fully vaccinated.
The papal visit is now open to participants using the OTP mode, who will have their own sectors at events in Prešov, Košice, Luník IX (home to Slovakia's largest Romani community), and Šaštín, distinct from the sectors for fully vaccinated pilgrims.
"The registered participant will receive a ticket with a QR code by email: they will print the ticket and bring it to the event," the bishops' conference website explained.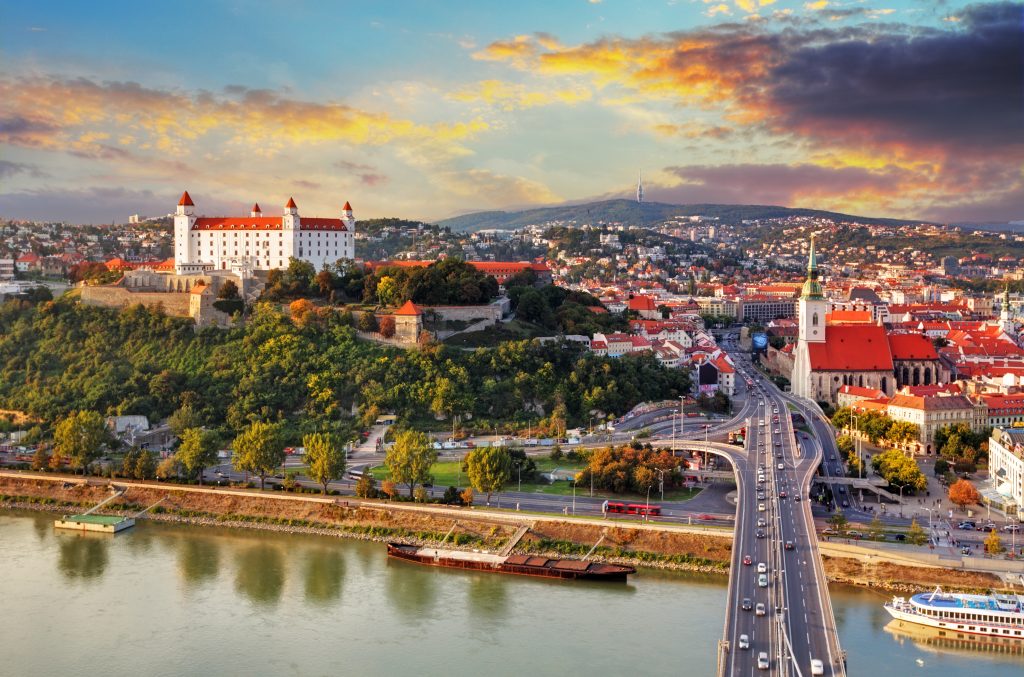 "When entering the OTP sector, attendees will be asked to show their ticket, ID, and a negative test or confirmation of having overcome COVID in the last 180 days."
Pope Francis formally announced on July 4 that he would be visiting Hungary and Slovakia.
Speaking after his Angelus address, the pope confirmed that he would travel to the Hungarian capital, Budapest, on Sept. 12 for the closing Mass of the 52nd International Eucharistic Congress.
He will arrive in the Slovakian capital, Bratislava, on the same day, spending two full days in the country bordering Poland, Ukraine, Hungary, and Austria, before flying back to Rome on Sept. 15.
In an interview with the Spanish radio station COPE aired on Sept. 1, the pope indicated that he was traveling to Slovakia because of a preference for visiting "small countries" in Europe.
Asking if he was interested in visiting Spain, Europe's fourth-largest country by area, he replied: "Very much. Very much. But my choice so far of travel to Europe is the small countries. First, it was Albania and then all the countries that were small."
"Now Slovakia is on the program, then Cyprus, Greece, and Malta. I wanted to take that option: first to the smaller countries. I went to Strasbourg but I did not go to France. I went to Strasbourg because of the EU. And if I go to Santiago [de Compostela], I go to Santiago but not to Spain, let's be clear."
The pope asked on Sept. 5 for prayers ahead of his trip to Hungary and Slovakia.
"Next Sunday I will travel to Budapest for the conclusion of the International Eucharistic Congress. My pilgrimage will continue after the Mass for a few days in Slovakia, and will conclude the following Wednesday with the great popular celebration of Our Lady of Sorrows, Patroness of that country," he said after reciting the Sunday Angelus.
"These will be days marked by adoration and prayer in the heart of Europe. While I greet affectionately those who have prepared this journey — and I thank you — and those who await me and whom I myself wholeheartedly wish to meet, I ask everyone to accompany me in prayer, and I entrust the visits I will undertake to the intercession of so many heroic confessors of the faith, who in those places bore witness to the Gospel amid hostility and persecution."
"May they help Europe to bear witness today also, not so much in words but above all in deeds, with works of mercy and hospitality, the good news of the Lord who loves us and saves us."