The new apostolic nuncio to the Philippines said he was "blown away" by the faith and deep religiosity of the Filipino people.
"I was just blown away by the faith of the people," said Archbishop Charles John Brown in an interview over Veritas 846 on Monday, January 11.
The prelate described Filipinos as a "deeply religious people" whom he said was "a great joy to see."
---
---
---
"As all of you know, in many parts of the world, the Catholic faith maybe is being practiced less intensely than it once was," said Archbishop Brown.
"But here in the Philippines, when you go to places like the Black Nazarene, it's still really deeply felt here, and that's beautiful," he said.
The archbishop led the celebration of the Holy Eucharist in Manila's Quiapo church on Sunday, a day after the "feast" of the Black Nazarene.
The apostolic nuncio expressed his gratitude to devotees of the Black Nazarene and all those who helped make this year's activities a success.
"We thank God for the gift of the very successful 'traslacion' of the Black Nazarene yesterday," he said during Mass.
"In behalf of Pope Francis, thank you volunteers who worked so hard yesterday to make sure that in this time of COVID-19 the 'traslacion' was done in a safe manner as possible," said the prelate.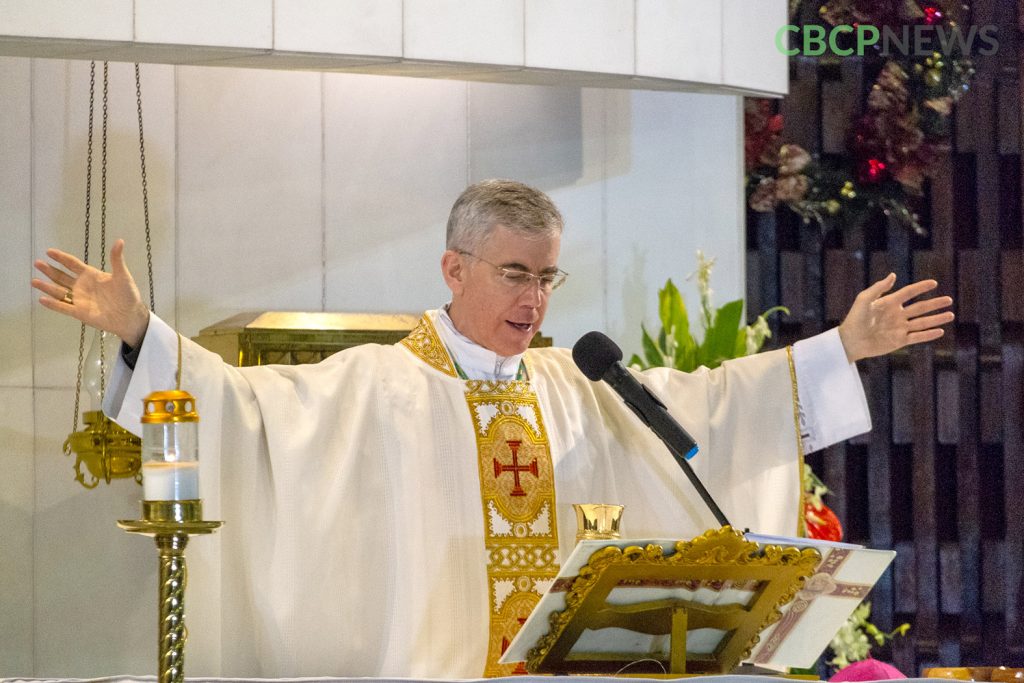 Thousands of people joined the celebration of the annual "traslacion" of the image of the Black Nazarene on Manila on Saturday, January 9, despite strict health restrictions.
The church in Quiapo celebrated 15 Masses during day, with up to 6,000 people attending per Mass inside the church.
Thousands more have gathered in the streets to hear celebration.
Large television screens were displayed outside the Minor Basilica of the Black Nazarene to allow devotees unable to enter the church to view the services.
Mosignor Hernando Coronel, rector of the basilica, said the celebrations were generally orderly.
"We are very happy because the devotees exhibited self-discipline and there was orderliness and a systematic way of entering the church," said the priest.
Several traditional practices, including the annual religious procession that usually attracts millions of people, were canceled due to the pandemic.
It was the first time for Archbishop Brown to celebrate Mass at the basilica in Quiapo.
In his homily, the papal nuncio asked the faithful to "live our Catholic life to the full, receive the sacraments, and live according to the teachings of Christ."
In the radio interview, the papal nuncio said his assignment in the Philippines came as a "super pleasant surprise."
He said the Philippines is "obviously an incredibly important Catholic country with such a wonderful history and great worldwide influence."
Pope Francis appointed Archbishop Brown as apostolic nuncio to the Philippines in September.
He replaced Archbishop Gabriele Caccia, who now heads the Holy See's Permanent Observer Mission in the United Nations in New York.
Archbishop Brown arrived in Manila in November.