The Vatican has lit up its Christmas tree and unveiled the traditional Nativity scene, which some observers noted had "Darth Vader" in it, on Friday, Dec. 13.
Only a few hundred people gathered for the annual event in St. Peter's Square due to strict health restrictions to prevent the spread of the new coronavirus disease.
"As you can see in the square the Christmas tree has been erected and the crib is being prepared," said Pope Francis in his message.
"These days, in many homes, these two symbols of Christmas are being prepared for the joy of children and adults. They are signs of hope, especially in this difficult period," he said.
---
---
---
The ceramic Nativity scene was donated by the town of Castelli in central Italy while the 28-meter-high red spruce was donated by Slovenia.
The 54 artistic ceramic statues composing the nativity scene were created by the Art Institute of Castelli's teachers and students in a town in Italy's Abbruzo region between 1965 and 1975.
In an online report in America magazine, the publication noted that some observers were surprised with the depiction of an astronaut and another figure wearing a "Darth Vader-esque helmet" coming to adore the Christ child in the Nativity scene.
An earlier press statement, the Vatican said the Nativity scene is an ode both to contemporary art and to Abruzzo's cultural history.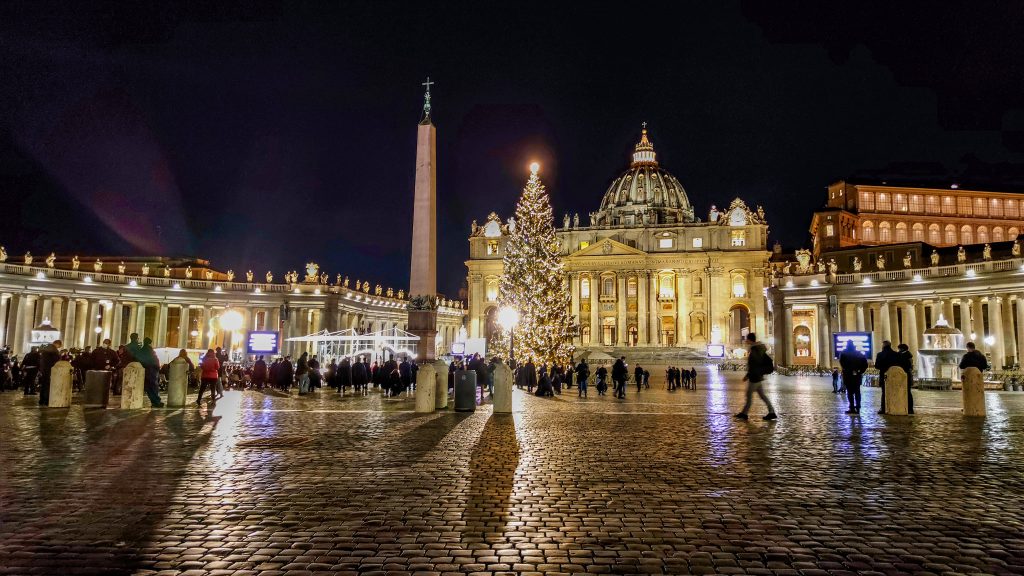 Since 2012, the scene has highlighted artists and materials from a different part of Italy: Recent years have included a terracotta Nativity and one made of sand.
Contemporary cultural figures like this year's astronaut have often been included in the Vatican's Nativity scenes, which have been displayed in St. Peter's Square each year since 1982.
The America article said it is "not the first time" that the Nativity scene has raised eyebrows.
In 2017, the set included a nude male figure meant to represent clothing the naked, a work of mercy. Because of the terracotta figure's sculpted muscles and glazed finish, some compared it to a "Ken doll."
Another work of art that has been lighted in St. Peter's Square is a bronze sculpture called "Angels Unawares" that depicts a boat of migrants and refugees from various cultural milieus and time periods.
It was installed in the Square on Sept. 29, 2019, under the patronage of the Vatican's Migrants and Refugees Section.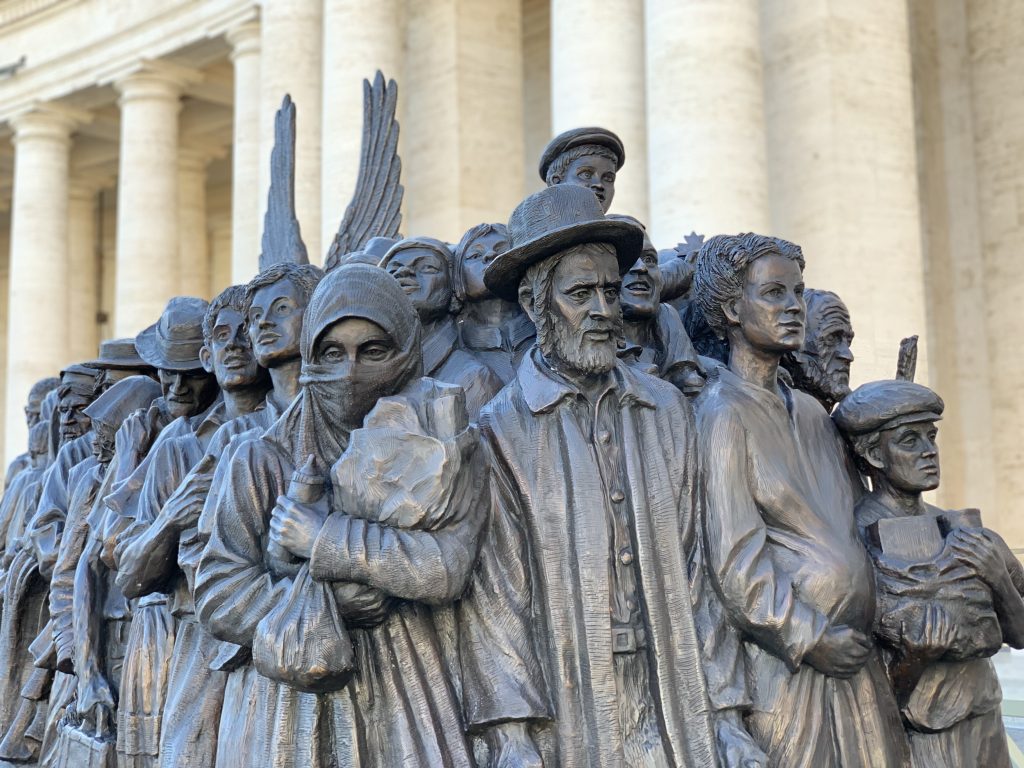 A special light shone on the three members of the Holy Family, who in their own time were forced to flee the tyranny of violence.
It is a "sign to highlight the deeper meaning of Christmas and to recall that Jesus, with Mary and Joseph, was also a migrant, fleeing for his life," according to a press release from the Migrants and Refugees Section.
Pope Francis in his message, said the "icons of Christmas" in display are "a sign of hope for the people of Rome and for those pilgrims who will have the opportunity to come and admire them."