She used to laugh at jokes about how can people possibly have children considering the country's economic situation amid the new coronavirus pandemic.
But now, Stefanie Caintic cringes at those jokes.
"I get a bit offended at some friends' jokes or underhanded comments about adding to the problem of the world's growing population," she said.
She admitted that she had minimized her "online and offline interactions to the bare minimum" with people "who are proud to be childless."
---
---
---
Caintic found out that she was pregnant in February when the Philippines had only a few coronavirus cases.
"This was an unplanned pregnancy," she said. News of the new coronavirus disease was just a "background music" to her life "with the volume turned down."
Now, her pregnancy is the "front and center" of her life, but with the COVID-19 pandemic, she has to "do everything to bring the child to the world sound and safe."
In May, Caintic decided to go back to her home province in Tacloban in the central Philippines where she said she can have "a relatively safe and cheaper" pregnancy.
"I wanted to come home because Manila is getting so hard to move around in," she said.
"Everything is two or three times more expensive and even just the thought of staying was suffocating me," she said.
After being stranded in Manila for two months because of the lockdown, Caintic decided to avail of the "Return to Tacloban Program" of the local government.
Going back home to the province from the capital was, however, a "tedious process" due to the quarantine restrictions.
Caintic had to secure a travel permit from the city of Pasig, where she was staying, and some papers that she would be needing upon her arrival in Tacloban.
She underwent a 14-day monitored home isolation to get a health clearance from the city of Pasig to be able to secure a travel clearance from the police.
She was given priority and did not have to wait for long hours in government offices because she was pregnant.
After she secured all the requirements, she waited for several more days for the city government of Tacloban to issue a letter allowing her to come home.
"It sounded like an easy procedure, but the actual process was too long and stressful," she said.
And because everything is "novel," people run around not fully briefed with no one to confirm the information or processes.
"As a citizen, you're on the receiving end of these inconsistencies," she said.
Finally, she was able to fly out of Manila on June 16, but she had to again undergo another 14-day strict home quarantine in Tacloban.
In her hometown, Caintic "somehow feels secure" that she will give birth without the fear of contracting the virus.
"The hospitals are smaller and everything is cheaper even in a time of the pandemic," she said.
The city of Tacloban has already zero COVID-19 cases.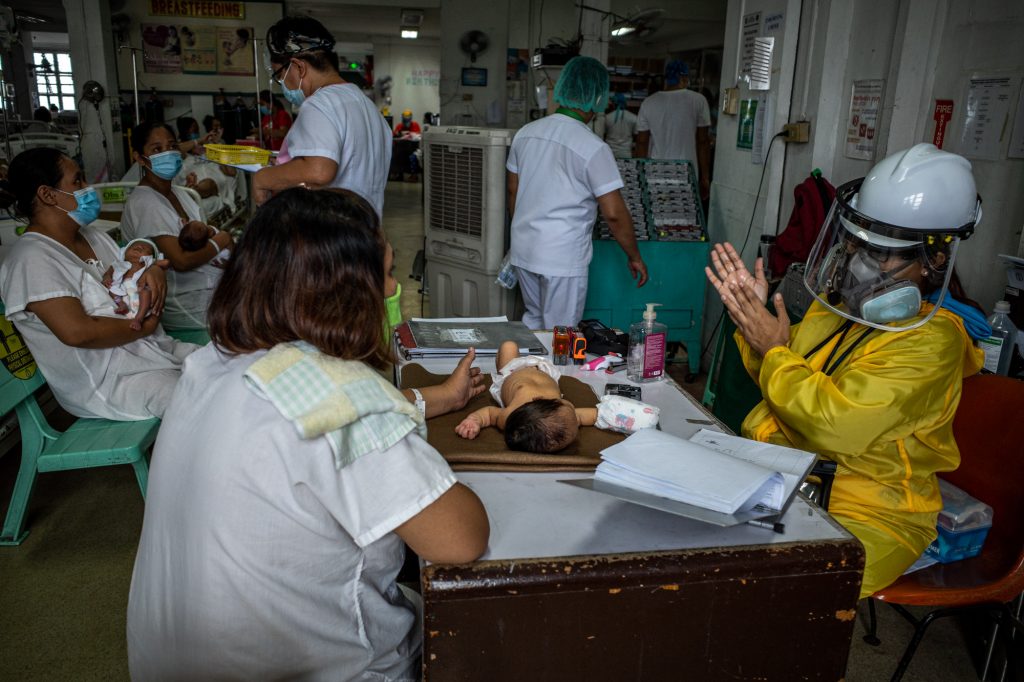 Losing the battle
While Caintic succeeded in putting herself and her baby in a relatively safer place, Helen (not her real name) and her unborn child lost the battle in a hospital in Mandaluyong City in the capital.
She was on her 25th week of pregnancy when she was diagnosed with lupus, an auto-immune disease that attacks vital organs of the body.
Helen was admitted to the hospital in early June and medical examinations revealed that she had pneumonia, severe anemia, and kidney disease.
"It was an up and down battle," said Fidel, Helen's partner. "She needed several blood transfusions but because of the pandemic, it was so hard to find blood donors."
Helen was eventually intubated and remained in the intensive care unit of the hospital for a time while doctors were studying if they can take the premature baby out of her.
"Taking out the baby would allow Helen to take strong medications and receive much aggressive treatment for lupus and respiratory illness," said Fidel.
Unfortunately, she succumbed to acute pulmonary hemorrhage on July 5, a few days after she was tested positive with the new coronavirus disease.
Fidel said he believed she got infected with COVID-19 while undergoing treatment in the hospital, which is also treating new coronavirus patients.
"It was an incident that could have been avoided if there is a dedicated health facility only for non-COVID-19 illnesses," said Fidel.
Helen was hospitalized for less than a month but the expenses skyrocketed to more than US$35,000. Still, they were not able to save her and the unborn child.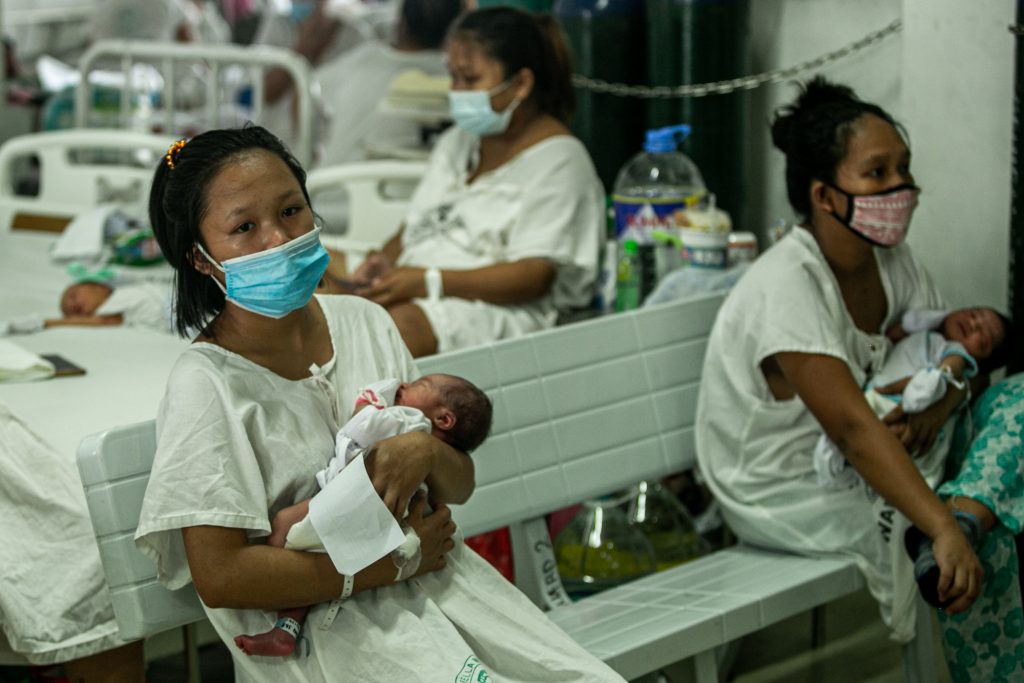 Care for pregnant women, children
As countries are on lockdown and health systems are overwhelmed due to the pandemic, health services for women, especially expecting mothers are being sidelined.
In April, the United Nations Fund for Population Activities said that if the lockdown would continue and health services suffer major disruptions, at least seven million unintended pregnancies are expected to occur.
In the Philippines, the Commission on Population said there will be two million live births next year because women have no enough access to family planning methods due to the lockdown.
The country has an estimated total population of about 109 million as of December 2019. In 2021, the population might have a spike of more than 110 million with the new projections.
Nikki Aserios, deputy director of Children's Rehabilitation Center, said the government still has enough time to allot resources that will address the needs of pregnant women and children.
"If there are projections of more live births, whatever the reason is, the government must ensure that children are born safely and mothers have access to health care," she said.
"With or without the coronavirus pandemic, the country's health system has been already struggling because of budget cuts, among other reasons," said Aserios.
She said the pandemic "only exposed the country's already weak healthcare system," adding that the government must look at it as "an opportunity to improve."
"In this time and age, no woman must die giving birth and no child must die unborn," she said.
In 2019, the Philippine Statistics Authority recorded 1,616 maternal deaths, or four to five Filipino women who died every day while giving birth.
Edz dela Cruz of the Center for Women's Resources said these deaths could have been avoided if women have "full access" to reproductive health information and health care.
"Not a single death should happen due to pregnancy and childbirth," said Dela Cruz.
She said the government need "to fill in the gaps that put pregnant women and their unborn children in peril."
"The coronavirus pandemic is a call to all stakeholders, especially the government, to properly implement all laws aimed to protect women and children," she said.
For Caintic, she vowed to do everything she can to bring the child to the world free from the threats of the new coronavirus disease.
Looking forward, she said the real challenge is how to raise the child "to become a better member of the entire population."
On July 11, people across the globe observed World Population Day. It was designated by the United Nations to raise awareness about reproductive health and achieve sustainable development around the world.
The theme this year is focused on safeguarding the health and rights of women and girls around the world, especially during the ongoing COVID-19 pandemic.