Daily-wage laborer Sonal Mohanty lives in a small island village in India's West Bengal state with her two children. Like many others, she has done it tough since the nation-wide lockdown was put in place March 24.
From then the 42-year-old Hindu woman hasn't worked or earnt any money. Her husband left the family years ago and feeding her two children during the lockdown from her meagre savings has been difficult and stressful.
When life didn't seem like it could get any more challenging for her it did.
---
---
---
On the evening of May 20, she and her children heard the approach of a terrifying wind that was the harbinger for the full force of Super Cyclone Amphan.
The cyclone would go on to smash her flimsy home, leaving it in tatters.
She and her children had to spend the rest of the night under the shelter of nearby trees as the cyclone tore through the village and its surroundings.
"I have never seen a storm of such intensity. It took everything, my home, my belongings, and my dreams," Mohanty told LiCAS.news.
Her village was one of many smashed by the cyclone that swept through several Indian states and neighboring Bangladesh, killing at least 96 people. Some 1.5 million houses were damaged by the disaster.
Bijay Basu, a farmer along the coastal region of West Bengal, also had his home destroyed by the cyclone. Basu, his wife and three daughters are now taking shelter in a government-owned building.
Basu's home was devastated in minutes. "There is nothing left of it now except few remnants of bricks and broken pieces of wood," said Basu.
Thousands of homes in Basu's hometown were likewise destroyed.
Bablu Sarkar, area officer for Caritas, India said that West Bengal is facing a three-fold humanitarian crisis made up of COVID-19, reverse migration, and now Super Cyclone Amphan.
Sarkar said Caritas and its partners in West Bengal are addressing the humanitarian needs of those people worst affected by the cyclone.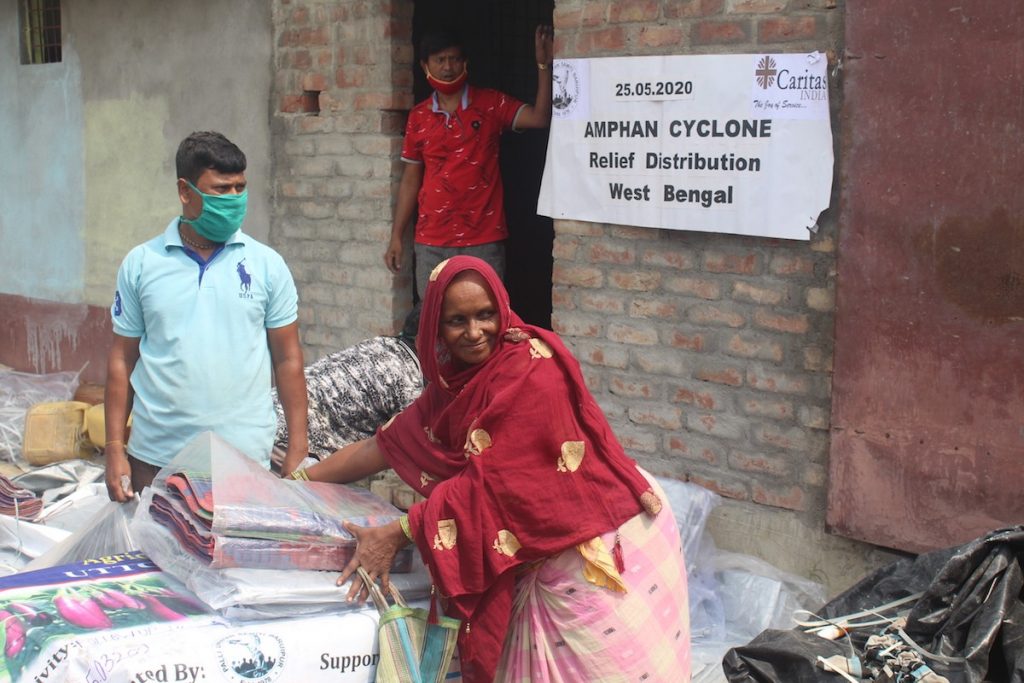 In the days after the cyclone hit, Caritas conducted a rapid needs assessment on what immediate shelter requirements affected communities needed.
"A whopping majority of the houses have been destroyed by the cyclone and the people needed immediate assistance. After assessing the damage, we moved on to the distribution of relief materials," Sarkar said.
"To meet the growing crisis in the community, immediate shelter support was provided to 1,230 households in the affected hamlets. More than 1,300 shelter kits have been transported to the cyclone-hit areas," he said.
Each shelter kit comprises of a tarpaulin, a groundsheet, and two sleeping mats.
The church agency has helped both Mohanty and Basu in rebuilding their homes.
"The volunteers are also helping me with food and other necessities," said Basu.
Mohanty said Caritas officials visited her island village by boat to help with rebuilding her home. "I had lost all hopes of seeing my children under a roof again. God has been kind to us," Mohanty said.
Father Paul Moonjely, executive director of Caritas India, said that they worked in close coordination with village committees to get the best outcomes when helping people get back on their feet.
"We have so far covered more than 33 island villages," Father Paul said. "Accessibility and connectivity continue to remain major concerns as the affected areas battle power cuts and shortage to potable drinking water," he said.
"The effects of the coronavirus and Cyclone Amphan has made an unparalleled impact on the livelihood of the people," he added.