Earlier this month the body of novice Divya P John was found in a well at the Baselian Sisters Convent in Thiruvalla in the southern Indian state of Kerala.
This was the 20th such mysterious death of a nun or novice since 1987 in Kerala, said Sister Jessy Kurian, a Supreme Court advocate and human rights activist.
On May 7 around noon the 21-year-old fell into the well at Paliyekkara in Pathanamthitta district, some 120 km north of the state capital of Thiruvananthapuram.
John, daughter of John Philipose and Kochumol, was in her fifth year of novitiate.
---
---
---
Initial reports of the preliminary investigation stated that police believed she either committed suicide or accidentally fell into the well while drawing water.
The police are further investigating the case following a complaint lodged by human rights activist Jomon Puthenpurackal.
Puthenpurackal is also engaged in a long legal battle to seek justice for Sister Abhaya whose body was found under mysterious circumstances in a convent well in Kerala's Kottayam district in 1992.  
The local police closed the case, calling it suicide. Nearly 16 years after her death, the case was reopened by the federal Central Bureau of Investigation (CBI) who would go on to conduct three separate investigations.
Two priests and a nun would be charged with murder over Sister Abhaya's death. One priest was later acquitted while the cases against the other two are still being considered.
Suicides
A growing number of young religious sisters and some priests have ended their lives in the past few years.
In September 2018, the body of a 54-year-old nun Susan Mathew was found in a well inside a convent in Kerala's Kollam district. Three years earlier, a 33-year-old nun Stella Maria, was found dead in a well of Sacred Heart Convent at Uluppuni in Idukki district of Kerala.
In neighboring Karnataka, a 36-year-old Catholic priest of Udupi Diocese Father Mahesh D'Souza reportedly committed suicide in October 2019. Two months later, the body of 28-year-old Sister Mary Sendra Vianney of Sacred Heart of Jesus and Mary Convent was found on the railway tracks in Hubli town in Karnataka.
"These incidents are a wakeup call for all the religious and priests to look at their lives, to set their priorities right once again," Sister Shalini Mulackal, a professor at Vidyajyoti College of Theology, Delhi told LiCAS.news.
"We need to humbly admit that all is not well with the way we live religious and priestly lives today. We have very few role models for the young ones to follow," said Sister Mulackal, a member of the Indian Theological Association and also its first woman president.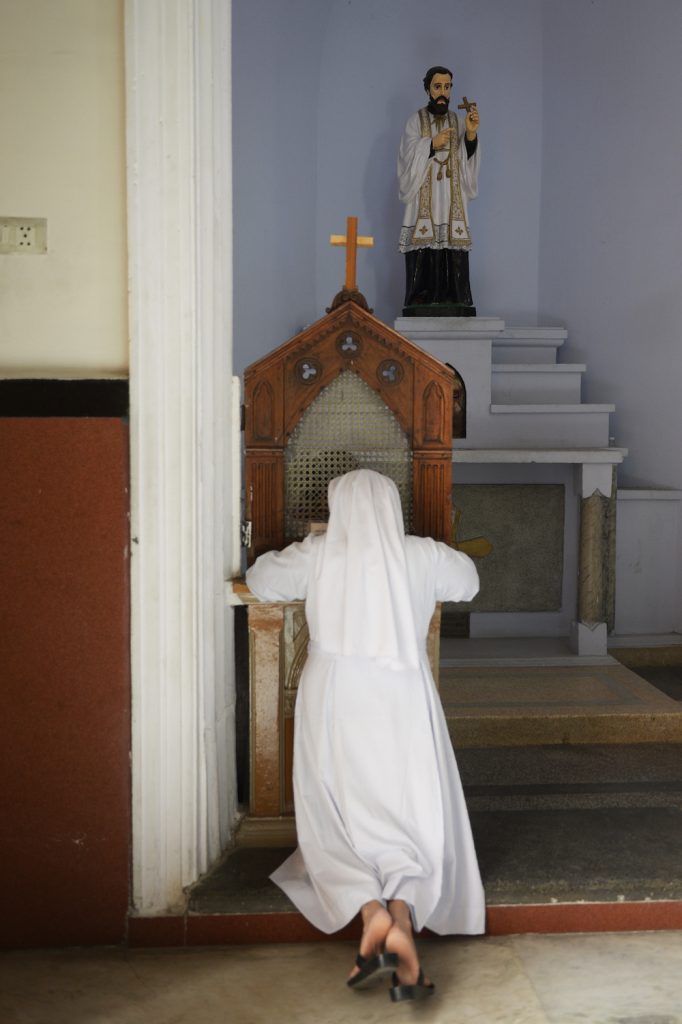 Capuchin Father John Baptist said that suicide is a pastoral concern that has to be addressed with the due seriousness and urgency as it deserves.
"There may be varied reasons why a person commits suicide," Father John said. "It can be either due to depression, spiritual despair, loneliness, to surmount tension with the authorities, lack of healthy sexual maturity, fear of failure in one's undertakings, fear of hardships, or other matters."
Sexual abuse
Clergy sexual abuse is also one of the reasons for some nuns and novices have taken the extreme step, said a former nun on condition of anonymity.
The nun alleges the matter is always hushed up and she asked why is the Church shielding people behind such crimes?
Theologian and scientist Astrid Lobo Gajiwala said that authorities are worried about the reputation of the Church.
"They are worried about their image. This concern takes precedence over justice," Gajiwala said.
Sister Mulackal explained further.
"We have to look at everything that happens to women religious or women's religious orders from the perspective of women's overall situation in society and the Church," Sister Mulackal said.
"Women are at the subservient position. Most nuns have internalized patriarchal values," she said. "If the crime in question involves priests, bishops or any other church leaders, women religious often try to suppress it from coming to the public domain. Women in fact want to save the face of the Church."
According to the nun, often an individual is "sacrificed" for the group.
---
---
---
Remember the Church is "conscious about its minority status," she said. "This too comes to play when such crimes take place. Nobody wants to wash their dirty linen in public for fearing ridicule from others."
Sister Mulackal said far more suicides are taking place among the general public.
"We should take into account the culture from which the young seminarian or novice is coming," she said. "When I say culture, I mean today's post-modern culture, capitalistic, consumeristic and a profit-oriented culture where the value of human life is given the least importance."
Dr. Joan Anthony, professor and psychologist, said that many people taking up a life in the Church do so at too young an age.
"A vocation to priesthood or religious life should be taken up only after graduation and preferably after taking up a job," she said.
"In today's technologically fast-tracking globalized world, adolescence, early adulthood is an age now too early for discernment for life-long decisions. They lack the experience of the world at large."
Much of the problem around the issue, Anthony said, also depends on how harmonious religious communities are.
Sister Mulackal said there are many reasons why there could be discord in a religious community.
"It all depends on the members of a particular community, their cultural backgrounds, age and personality differences," said Sister Mulackal. "The maturity level of the members too varies. In such a situation, there is every possibility that many communities may experience disharmony and lack of unity of mind and heart."
For those who take on a life of religious service must sustain their faith and build their bond with God or they risk ending up being broken and frustrated, she said.
"One needs to nurture one's faith and vocation daily," Sister Mulackal said.
Father Victor Ferrao, a professor at Patriarchal Seminary of Rachol, in the western state of Goa, said there is a need to reorient formation strategies to foster dialogue between community members especially to help the lonely and the young.
"Superiors should be more like friends than taskmasters. They should identify the struggling members and help them," said Father Ferrao. "Enable them to have a healthy and adequate relationship with their respective families. This implies sufficient annual holidays every year and participation in family events."
---
---
---
Father Ferrao said along with the existing curriculum, alternative sciences promoting life, stress management, handling relationships, responsible freedom and personal liberty besides community orientation are needed.
Father Joe Mannath, the national secretary of the Conference of Religious in India, said that human formation requires mature, loving and inspiring formators who create a joyful and caring atmosphere in which the young can really grow.
"Both earlier and now, the main training each of us gets — and the most lasting — is from home. Seminaries and convents can build on that, certainly, and they do," he said.
"The effectiveness of any training depends, as you know, on the trainee, the trainers and the situations confronting each one," concluded the Salesian priest, who has spent over two decades in the formation ministry.