Climate campaigners in Manila staged a protest action in front of the Japanese Embassy in the Philippine capital on Tuesday, August 2, to protest the Japanese energy sector's promotion of fossil gas and hydrogen for power generation.
Similar actions were reportedly held in Bangladesh and Indonesia.
The protesters called on the Japanese government and corporations to stop financing fossil fuels and the promotion of technologies that are "false solutions" to the climate crisis.
---
---
Japan, one of the top importers of fossil fuels, opened its 2022 Energy Summit, a three-day event with Japanese senior-level buyers, government representatives, international suppliers, and technology providers from over 20 countries, on Tuesday.
Supported by big Japanese fossil fuel financiers, the summit aims to address topics around Japan's moves in curbing emissions, including the role of hydrogen-based fuels in decarbonizing the energy generation sector and expanding Japanese LNG in Southeast Asian markets.
"This summit showcases Japan's interest in false solutions, such as carbon capture, ammonia co-firing or hydrogen plants, and how to keep LNG attractive for investors in spite of its dirty reputation," read a statement from the Asian Peoples' Movement on Debt and Development (APMDD).
Lidy Nacpil, APMDD coordinator, said her group is registering its "fierce opposition" to the agenda being promoted by the summit.
"We call on the summit participants to stop supporting fossil fuels and instead contribute to the rapid, equitable and just transition to renewable and democratic energy systems in Asia," said Nacpil.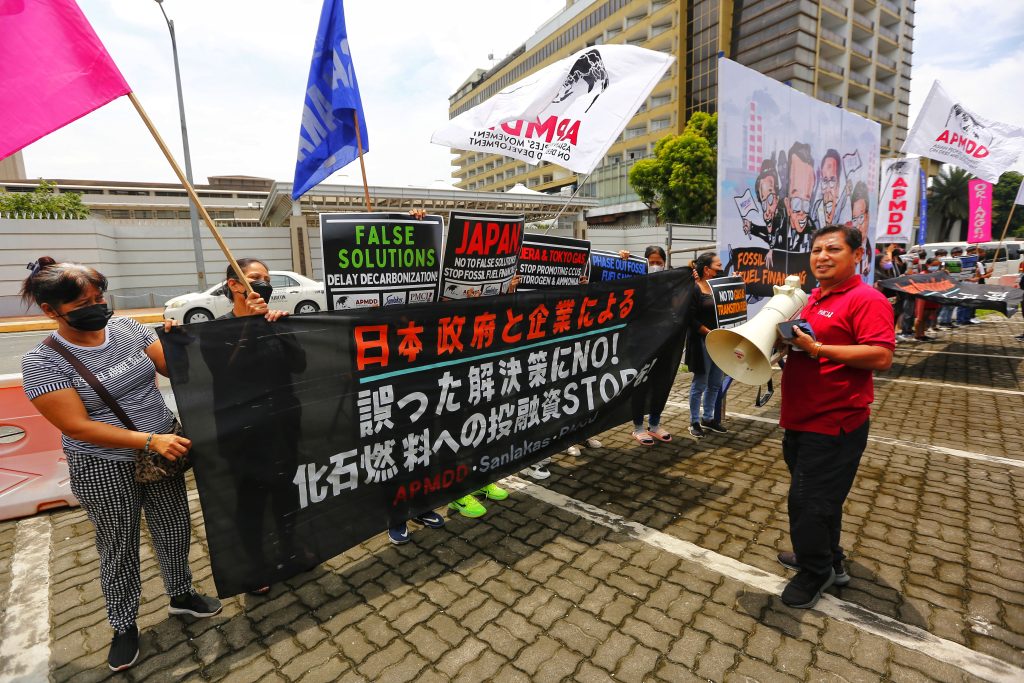 Japan has been positioning itself as a pioneer in hydrogen technology, envisioning the creation of a hydrogen society.
Last year, at the COP26 summit, Japanese Prime Minister Fumio Kishida pledged Japan's support to developing nations in Asia that promote power generation using ammonia and hydrogen-based fuels .
"The main cause of the climate crisis is the burning of fossil fuels," said Nacpil.
"We need to speed up the direct, just and equitable transition to clean, renewable energy technologies, not extend the life of the fossil fuel industry with hydrogen fuels, carbon capture and fossil gas," she said, adding that these technologies "lead to the production of more fossil fuels."
Ammonia and hydrogen are being promoted as promising alternative fuels for decarbonizing electricity production. Fossil gas, commonly referred to as natural gas and LNG in its liquid form, is a fossil fuel touted to be cleaner than coal. The most common form of producing hydrogen involves using a process called steam reforming which uses LNG as a fuel source and still emits greenhouse gasses.
Lawyer Aaron Pedrosa, secretary general of Sanlakas and co-chairperson of the Energy Working Group of the Philippine Movement for Climate Justice, said the promotion of "false solutions" is a "dangerous distraction that would only delay decarbonization and maintain the reliance on fossil fuels."
"Investments in false solutions is not the fix that we need to enable the clean energy transition. We need to increase capital spending on clean energy instead," he said.
The climate campaigners said using ammonia and hydrogen-based fuels for power generation are "unproven alternatives and therefore unreliable," while new gas infrastructure, which can last up to 30 years, risks locking countries into prolonged greenhouse gas emissions.
Fossil gas production emits methane, which has a warming effect up to 80 or 90 times more powerful than C02 over a 20-year timescale. Climate scientists warn that emissions from the fossil gas industry are now growing so rapidly and are responsible for much more methane in the atmosphere than previously known.
Fossil gas investments continue to rise in Asia despite the warning of the Intergovernmental Panel on Climate Change (IPCC) that the world is set to breach the 1.5C warming limit within the next two decades without immediate and deep emissions reductions.